Elan Valley Training Course Comes to an End
Written by Tir Coed / Tuesday 09 August 2016
What an exciting start to our work at the Elan Valley. A stunning location, fantastic team of volunteers, really good site to work from and some really useful and creative work to do on site. Not to mention Harry Ireland, our very knowledgeable & indispensable Elan Valley Ranger... The only complaint was the midges!
We have all bonded fantastically as a group and every volunteer has shared a wide variety of skills and knowledge.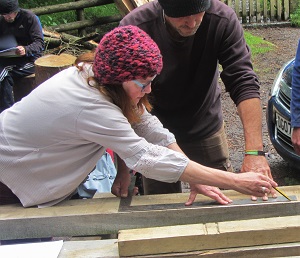 Throughout the course everyone had developed a varied and useful range of both green and sawn wood carpentry skills. These skills have been put to good use, firstly creating essential saw horses for use on the project (and beyond - sturdy would be an understatement!).
We then embarked on the main creation - two types of gate in the styles already used on the estate as replacements for old. The standard of these gates has far exceeded our expectations (as you can see from the photos) and is a testament to the group's skill, patience and enthusiasm.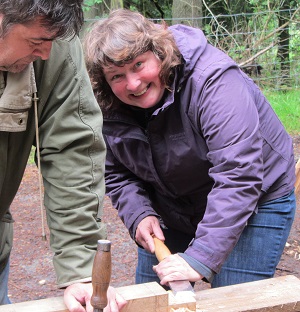 We finished the course by installing some steps from cleft larch sourced on the estate, providing improved access to the bungalow next to the work site.
In addition to the course material we all learned an amazing amount about the local wildlife and history. With a good few keen nature enthusiasts, local people and a fisherman on the course, our walks and discussions around the site where very insightful. Having Harry, the Ranger with us helped understand a whole lot more about the local ecology and our relationship to the site, finishing with an exciting tour of the inside of Pen-Y-Gareg Dam on the last day.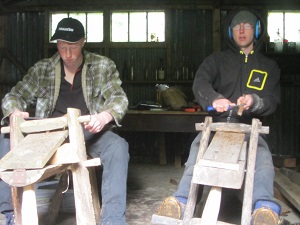 A huge thank you to the volunteers for your hard work and great company, the Elan Valley staff, especially Harry Ireland and Ed who have been indispensably supportive, Martin and all of the Tir Coed staff who make sure the course runs and runs well.
Looking forward to the next course!
Colin Titley and Dave Thomas (Tutors).

I am very pleased with the process and outcome of this pilot training at Elan Valley. It has been a demonstration of the strong and supportive working relations developing between the partners.
We are so proud of the cohesion and sense of togetherness displayed amongst the volunteers, tutors, ranger and coordinator. We are currently mapping the potential woodland management requirements across the Elan Valley woodlands to help guide the allocation of training courses and activity days for the next five years. - Martin Cope (Volunteer and Training Coordinator).
I cannot thank Tir Coed enough for this opportunity. Before, it was very hard for me to attend courses like this for personal reasons. I now feel more confident to get out there and have learned so much in these lovely woods. More please! - Volunteer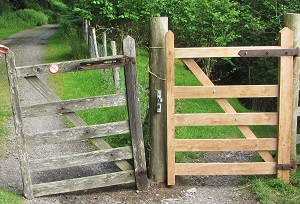 Number of Volunteers (Trainees and Montors): 12
Those receiving Accreditation: 9
Number of Volunteer Hours: 1461 hours
Tutors: Colin Titley and Dave Thomas