Lori-Beth joins the Tir Coed family
Written by Tir Coed / Wednesday 23 March 2022
Lori-Beth Underhill has become Tir Coed's newest member of staff, joining the team as a project assistant.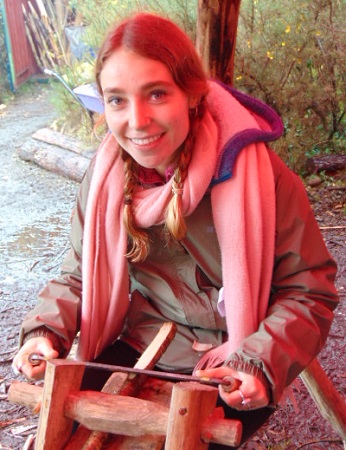 Tell us a little something about yourself...
I'm originally from a small heritage town in South Wales and I studied Animal Behaviour at Aberystwyth University. Before starting at Tir Coed I worked as a play and wellbeing worker and a teaching assistant.
What are your hobbies?
My hobbies include yoga, cycling, and crafts.
What excites you most about your new role?

I'm most excited to do something different and work for a charity that is providing education and improved wellbeing through nature and the outdoors.
What do you enjoy most about being outdoors?
I love riding a bike through beautiful places and feeling connected with nature.
What inspires you?
I feel inspired by possibility, and of course family and friends.
What's your favourite season of the year and why?

Summer, because of the extended period of sunshine.
If you were a tree, what tree would you be and why?
I'd be a coconut tree, so I could live rent-free along the coastal areas in the tropics.