Croeso i bawb
Written by Tir Coed / Monday 27 November 2017
Phew – what a few weeks it's been here; we are now fully staffed and ready to launch into the Learning to Enable Achievement and Fulfilment project. The team are all bright eyed and bushy tailed, so if you want support from a mentor or just want to learn more about our programmes, do get in touch.
First of all, do meet the latest members of the team:
Adam Dawson – Pembrokeshire Coordinator (working with Jim)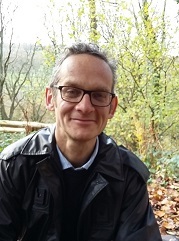 Adam Dawson is the new Pembrokeshire Co-ordinator. Bringing a passion for trees, woodlands and timber, with a career in forestry and arboriculture to the post. He has worked in forests in Brazil and India and all across the UK, from the home counties to the highlands and islands of Scotland, but loves living in Wales the most. Some of the woodwork projects that he has turned his hand to have included chairs, yurts, treehouses, a log cabin, a 36ft sailing ketch, a timber frame barn and even a steam bent bamboo hang glider. He has always tried to connect people with trees and woodlands sharing some of the happiness and satisfaction that they have given him over the years, as well as food, fuel and income. One of his favourite quotes is:

"The best time to plant a tree is 20 years ago, the second best time is now!"
Reading Tir Coed's website felt like somebody had put into words all of the things that I am most passionate about. I am delighted to be sharing opportunities for other people to get into their local woods and learn the skills to generate thriving woodlands, creative spaces and beautiful wooden structures. People need trees more than ever.
Cath Seymour – Ceredigion Coordinator (taking over from Joe)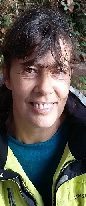 Hi I'm Cath Seymour, I have a BSC in organic farming and have worked in a practical setting with disadvantaged adults and young people in the charity sector for around 13 years. I have taken on the Coordinator role for Ceredigion and will be taking over from Joe Gardom, the current coordinator who is moving on.

There is nothing better than seeing people reconnect with nature, enjoy learning woodland skills and thrive in the natural environment. It is my role to help provide opportunities to make that possible within Ceredigion.
Anna Georgiou - Elan Links Volunteering and Training Officer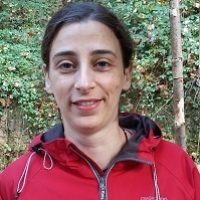 I'm Anna, and I'm delighted to be starting my role with Tir Coed based in the Elan Valley working within the Elan Links team. As a former Countryside Ranger and resident of the Elan Valley I am looking forward to welcoming people to this magnificent area of Mid Wales where I can help them to gain countryside skills and to achieve their own personal goals.
My own career in conservation began with a year of full-time volunteering with the National Trust. I carried out everything from building footpaths to chainsawing trees in the mountains of Snowdonia. After gaining my MSc in Conservation and Land Management at the University of Wales, Bangor, I
have continued to work in various conservation roles over the last fifteen years including the Wildlife Trust where I managed the headquarters nature reserve and later became a Wildlife Advisory Officer. More recently I have been at the Local Environmental Records Centre in Brecon where amongst other things I managed wildlife records, liaised with the recording community and also became something of an expert in GIS digital mapping.
I will be working closely in partnership with many individuals and organisations to support volunteers being engaged in a host of training opportunities in the woodlands around the beautiful Elan Valley.
Nancy Hardy – Pembrokeshire Mentor

I am super excited to be working for Tir Coed on the LEAF project as I think engaging people with the natural environment is really important.
I studied Primary Education in Swansea and after a stint in the classroom have used my transferrable skills to work with young people in a raft of different settings, from small youth centres to the Princes Trust. My passion for encouraging people outdoors and making little conservationists of the young people I work with really blossomed during my time at the National Botanic Garden of Wales where I had responsibility for the Education Department.
While at the Garden I completed my Forest School training. Forest School is a learning approach that offers children opportunity to guide their own learning in wooded area. It encourages personal development as well as educational and environmental understanding. It also encourages children to mitigate risk through exciting activities and independently exploring the natural environment, something that many children don't have opportunity to do.
My favourite thing about the work I do is watching people who struggle in the classroom or other situations thrive in the outdoors.
Steve Parkin – Ceredigion Mentor
Hi, my name is Steve and I was really chuffed to be appointed as Ceredigion Mentor for the LEAF project. Having worked for Tir Coed for over 10 years as a support tutor and with 18 years' experience in youth work this new role will allow me to really support the clients, not just during the projects but in taking their next steps in life.

I recently completed a BSc in Countryside Conservation at Aberystwyth University which was partly motivated by the work I have undertaken with Tir Coed and my own passion and fascination for nature. I firmly believe that working in the outdoor environment, particularly woodland, is the greatest medium for empowering young people and helping them overcome obstacles in their lives whilst improving their mental and physical well-being.
I have a large family and all my children love to spend time outdoors engaging with nature, and are always much happier for it! I feel blessed to have lived in West Wales for most of my life and hope to help future generations benefit from and take care of our beautiful countryside.