Introducing Ceredigion's new Activity Leaders!
Written by Tir Coed / Tuesday 19 November 2019
Cath Rigler: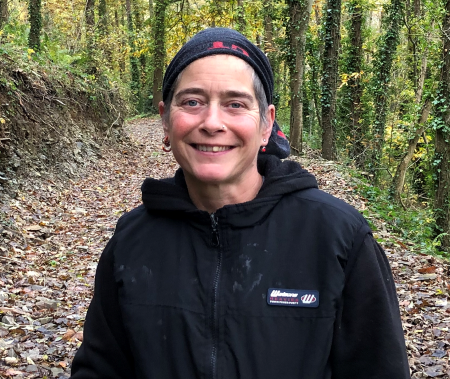 Cath has worked in outdoor facilitation for over 20 years, with all age-groups, in a wide variety of contexts. She is a Level 3 Forest School practitioner, has an MA in Contemporary Theatre Practice, and over 10 years' experience of project-based training in woodland management. She worked with Tir Coed as a freelance tutor for over 10 years before joining the team in her current role.
Jonathan 'Stevie' Stevenson:

Tell us a bit about yourself...
I studied history at University, then meandered aimlessly for a bit and eventually realised that I wanted to work outside. I then spent 2 years working in agricultural development and forest conservation in Malawi, Zambia and Mozambique. When I got back, I qualified as an arborist and have worked in forestry and tree surgery since, with a particular focus on traditional practices of sustainable woodland management.
What are your hobbies?
Green woodworking and carving, cooking for and eating with friends, climbing trees, reading (especially history), rugby and cricket (playing and watching), playing guitar and singing, arguing (in a friendly way) with people that I like about subjects that I find interesting.
What excites you most about your new role?
Getting new people into the woods and getting them excited about woodlands and the lives and livelihoods that people can have in them.
What do you enjoy most about working in the outdoors / woodlands?
Caring for an important resource, spending time in a beautiful environment that never fails to provide something new and interesting, the satisfaction of hard physical work and feeling like you've really earned a sit-down at the end of the day.
What inspires you most?
People who can do things that I want to be able to do much better that I can (especially if they make it look easy).
What's your favourite season of the year and why?
Spring: Longer days, new life and the return of colour.
If you were a tree, what tree would you be and why?
Birch: I'm versatile but not the best at anything, I quite like the cold and I look nice in frosty morning sunshine.