Introducing Pembrokeshire's new Activity Leaders!
Written by Tir Coed / Tuesday 19 November 2019
Emily Wilson: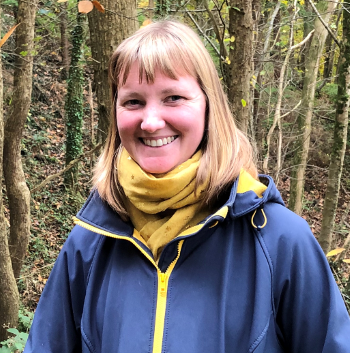 Emily worked as a teacher before training as a Level 3 Forest School Leader. She then set up and ran a Forest School in Bristol, which is still going strong under a colleague's management. She worked outdoors with families, community groups and schools. In her spare time, she loves needle felting, and walking in the woods and the Preseli's with her lovely dog and family.
Tom Haskett:

Hobbies:
Surfing, painting and sketching, paddle boarding, walking.
Background
I have a varied background, including carpentry, joinery, restoring historic timber framed buildings and making new oak framed vernacular houses and barns. I've also restored sailing yachts and surfboards. I've been a youth worker and a play worker for some time, and I'm also a freelance illustrator and painter.
What excites you most about your new role?
Being outside in beautiful settings, helping people to learn beneficial skills, and learning new things for myself. I'm looking forward to working with new people, being part of Tir Coed, and being able to use my background and experience to complement their amazing work.
What do you enjoy most about working in the outdoors / woodlands?
Being out in the natural environment, in the fresh air, witnessing first-hand the changing of the seasons, the different qualities of light, the changing weather, and the wildlife – particularly the unexpected sightings.
What inspires you / or provide your favourite quote?
As a painter, I take huge inspiration from my surroundings. There's beauty in everything, be it just the subtle, simple scenes on my doorstep or the majesty of the coastline where I spend much of time. Aside from my surroundings, people also inspire me a great deal.
What's your favourite season of the year and why?
There are elements that I like about all of them, but if I had to choose, it would be spring because of the increasing warmth and daylight, the clocks going forward, all of the new growth and the promise of summer to come.
If you were a tree, what tree would you be and why?
Probably a Beech tree, because I love surfing! Or maybe a Poplar, as I'm rather tall, and as a child, I had a treehouse in one (and Monet painted them).