Lovely Lincoln and the Launch of the Tree Charter
Written by Tir Coed / Wednesday 08 November 2017
On 6 November 2017, on the 800th anniversary of the 1217 Charter of the Forest, the new Charter for Trees, Woods and People was launched at

Lincoln Castle – home to one of the two remaining copies of the 1217 Charter of the Forest. It now rests in the Lincolnshire Archives.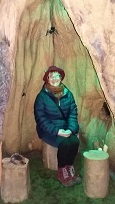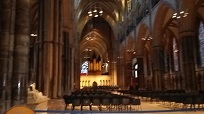 Stood, collectively worshiping trees under the canopy of Lincoln cathedral, Angie and Leila joined 100 other invited guests to launch the Woodland Trust's Tree Charter on 6th November. The guests were treated to a number of inspirational speeches, poems and songs to mark the occasion before going to join a procession to Lincoln castle for the unveiling of one of the six carved poles commissioned for the Charter. The procession included local children with lanterns as well as a team of cyclists who had biked all the way from Runnymede, planting trees along the way.
After more entertainment – including a warm welcome by Clive Anderson – our duo joined hundreds of people in going to view the original Tree Charter of 1417 and signing the new one in oak gall ink. An unforgettable night and Tir Coed are proud to have been involved in helping draw up the principles behind the Charter.
If you haven't done so already, you can sign the new Tree Charter here: https://treecharter.uk/