One Day Knowledge Transfer - High Wire Extraction at Coed Nanteos Covert
Written by Tir Coed / Monday 11 March 2019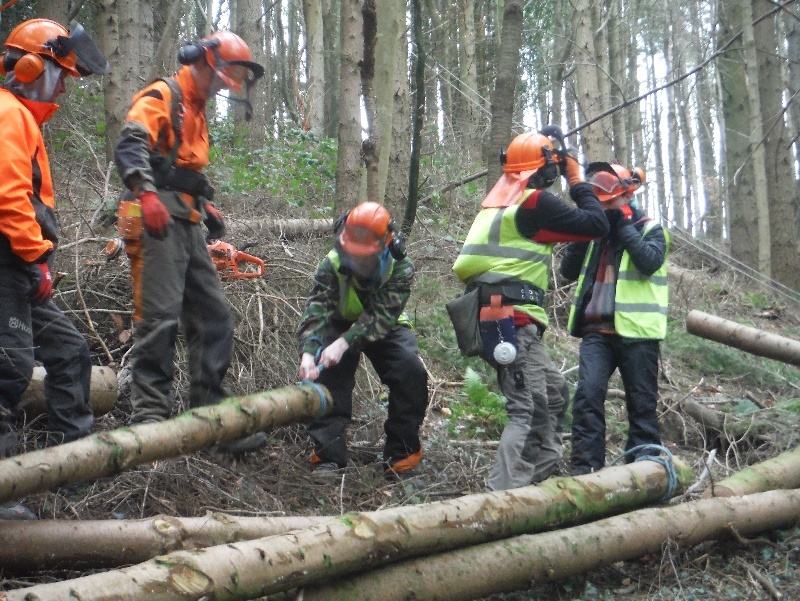 Five of our trainees and one staff member accessed this one-day knowledge transfer event delivered by MWMAC Ltd, funded by Focus Forestry First Ltd. on February 19th. The aim of the day was to familiarise participants with high wire timber extraction methods using a tractor mounted twin drum winch system, this involved setting up of the high wire cable by selecting safe and secure trees to rig to and applying ratchet straps to surrounding trees for additional support.
Once the main rig was in place the group set to work aligning the timber ready to extract, but as some of the trees were wind thrown across the racks this made the task slightly awkward but was a good example of what is common in the forest environment. We were blessed with dry weather and despite a slow start; over four tonnes of Douglas Fir had been extracted to the roadside by end of day.
Participants all felt they had learnt a great deal and were confident they could undertake setting up similar systems in their own workplaces. Overall, it was a very interesting and constructive day out, our thanks to Chris, Ceri and Rhys from MWMAC for sharing their experience, and Focus Forestry First Ltd, for the funding. Diolch yn fawr!