Penparcau Allotments Bench
Written by Tir Coed / Tuesday 25 July 2017
A number of trainees from the woodland management course earlier this year had the opportunity to continue learning wood crafts following the completion of the course, constructing chunky furniture under commission by the Aberystwyth Town Council and Highways Department to be situated next to the Penparcau allotments.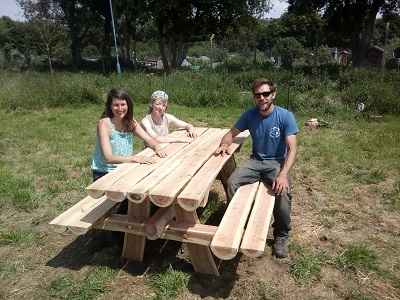 The trainees and tutor Rob Smith came up with designs using timber felled by volunteers as part of the ancient woodland restoration work in Coed Tyllwyd, using the beautiful pink heartwood of the Japanese Red Cedar to full effect by milling each timber in half.
Using traditional woodworking techniques learnt through the course combined with modern fixings the group have created some stunning furniture that will provide the community with a place in this lovely spot to rest the legs or stop for a picnic. During the installation of the furniture (on one of the hottest days of the year!) a considerable number of residents in the area thanked the group for creating a space where they could picnic with their families or enjoy the view out over the allotments and nature reserve. Many thanks go to the Highways Department and Aberystwyth Town Council for providing an opportunity for the trainees to progress their woodworking skills, and create a finished product to be very proud of. Thanks also go to the thoughtful local residents for bringing the group cold drinks as they installed the benches.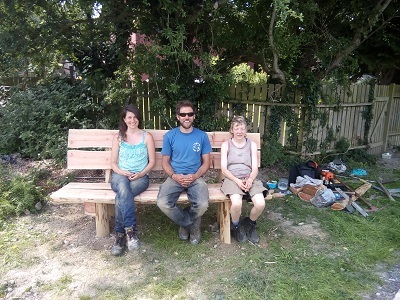 Volunteers: 3
Volunteer Hours: 120
Tutor: Rob Smith
"This is great! I can't wait to bring my grandchildren here for a picnic"
Penparcau Resident