Sustainable Woodland Management - Elan Valley
Written by Tir Coed / Tuesday 27 February 2018
The Elan Valley provides opportunities for people to develop, build confidence and learn new skills.
The first 12-week training course to be delivered by Tir Coed through the Elan Links scheme is now in its third week and is going really well. The group is a varied bunch of people from around Powys, who have quickly got to know each other and there is a great atmosphere.
The course is taking place in Penbont woods, which is set against the backdrop of the spectacular Penygarreg dam, the third Victorian built dam in the Elan Valley. It's an interesting wood and a great setting to learn about woodland. Just 25 years ago, Penbont Woods was predominantly conifers and rhododendrons. Conservation work has turned the wood back into broadleaf with a mixture of oak, hazel and ash. It's now a hotspot for visitors with great footpath access.
Sustainable woodland management is the theme for the course and there is also an element of improving the access.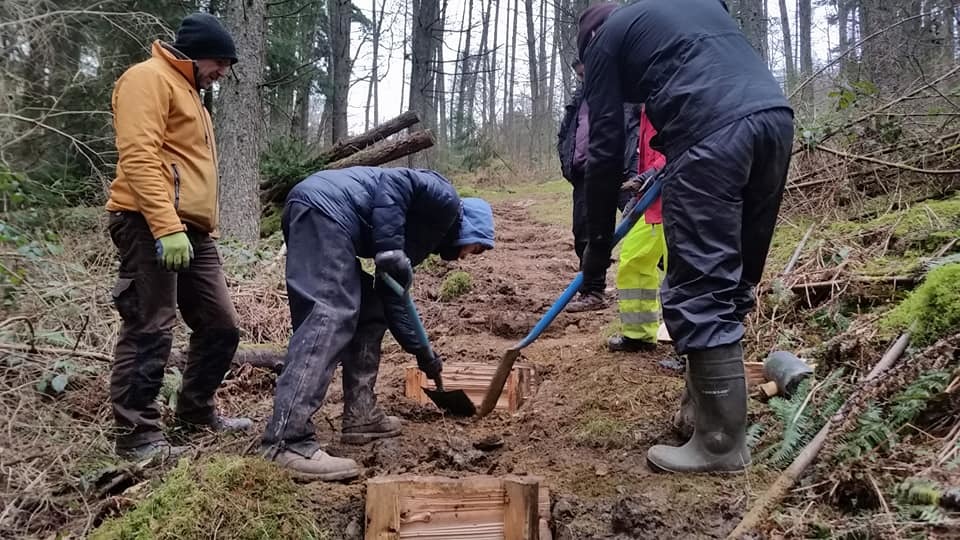 The tutors, Colin and Dave are old hands at running training courses for Tir Coed. The first week was mostly spent generally getting to know the site, and looking at previously completed projects, including the construction of a timber bridge, steps and gates.
We have also begun to look at tree species and their identifying features. The group has been introduced to a range of woodworking tools and learnt how to chop firewood and light a fire in our new bespoke fire bowl…thankfully without chopping off any fingers or setting the woods on fire.
Over the next nine weeks the group will be carrying out various woodland management tasks including thinning of natural regeneration to increase light levels into the wood. This is beneficial for species of lichens and bryophytes as well as woodland birds including wood warblers and pied flycatchers. Towards the end of the course the group will be designing and building a length of boardwalk using traditional techniques. By May the group will have a host of new skills and knowledge and a number will have achieved a nationally recognised qualification from Agored Cymru. A good job all round!