Sustainable Woodland Management - Pembrokeshire
Written by Tir Coed / Monday 17 December 2018
We have reached the end of another 12 week training course in Pembrokeshire. 8 trainees have achieved accreditation in Sustainable Woodland Management and are thinking about what's next, 2 tutors have gained experience and confidence and another Pembrokeshire woodland has improved management and access.
On the last day of the course, there was an end of term vibe in the air. Between the tutors and the trainees, a fireside feast was provided with perfectly cooked jacket potatoes, delicious home-baked carrot cake and even some chestnuts roasted on the open fire.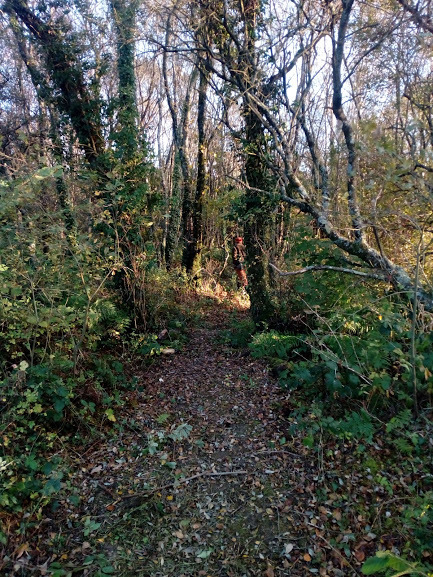 Together we visited the various sites where work has been done during the course as a reminder of what has been achieved. This included coppicing, path making and a beautiful boardwalk with hand rail that improves access to the oak circle which has hosted the main camp throughout the course. Everyone worked really hard to complete their work books by week 10 so that they could be sent off for verification. This meant that there was time for the trainees to work on individual projects and share their skills with each other; Amber's whittled hens will remain a firm favourite for everyone!
It was cool. I learned so much about trees, coppicing and crafts with a great group of people and tutors. Tir Coed are a wonderful organisation.
We would like to say a big thank you to the Woodland Farm for having us, a big thank you and well done to the tutors for a brilliantly delivered course and a massive thank you and well done to all the trainees. This is not the end though, we will stay in touch with the trainees to support them in finding other opportunities and continue to share our skills, knowledge and poetry with each other.