Women in the Woods - Angie Martin
Written by Tir Coed / Thursday 07 March 2019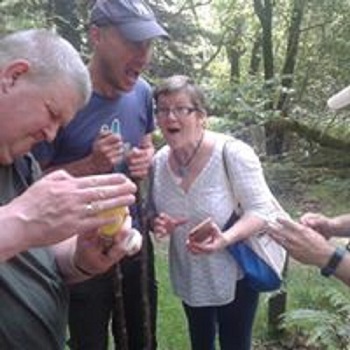 I joined Tir Coed with over 15 years' experience in education – ranging from Physical, Creative and Expressive Arts to Personal Development and Youth Work. I have always been passionate about supporting individuals with their learning and enjoy designing alternative ways to make this process rewarding and productive for all.
Having lived on a narrowboat for seven years I have first-hand experience of the importance of needing to protect the environment and natural resources, and understand that there are many ways to encourage others to do the same thing. Moving to rural West Wales and becoming a mum, I found new challenges in the natural environment and discovering Tir Coed was a breath of fresh air. Not only could I use my experiences in alternative methods of education but I could do this out in the beautiful woodlands too.
My introduction to Tir Coed, was as an assistant project officer, supporting the two other staff members at the time. Keen to take on more responsibility, I soon found myself moving into a project officer role where I quickly realised that my skills naturally leant towards the accreditation provision. I began to look at the creative design and development of units and workbooks and have never looked back.
Ten years on, I have seen a huge growth in Tir Coed's staff team as well as the charity's status and reputation. As accreditation manager, quality is a hugely important part of my role, and this has helped Tir Coed to become recognised locally and amongst UK-wide forestry networks, for providing high quality experiences. I have designed a range of units over the years and now have the chance to develop a qualification to add to Tir Coed's provision. I know that my work makes a real difference and I am proud to say that I have helped hundreds of participants to achieve recognition for the work they have undertaken. The workbooks they take away provide a lasting memory of these experiences as well as being a useful source of evidence to support that next individual step. I really do love my job!
So, if I had to offer one piece of advice it would be …
"Don't be constrained by the imagined boundaries of a role, remember skills are transferrable, so follow your instincts and go make something your own and enjoy it!"