VINE summary: Coedwig Cymunedol Longwood - Lampeter
Written by Tir Coed / Tuesday 13 December 2016
The first training course for this year ran from 8th February until 10th May and kicked off the VINE year 3 activity at Longwood Community Woodland. The group were tutored by timber frame specialists Jamie Miller, Ray Miller and on occasion Kelly Cutler.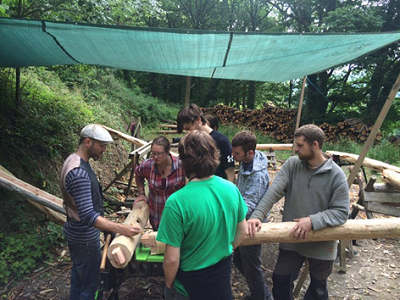 11 learners enrolled onto the course, a fantastic group of people who showed commitment, enthusiasm and teamwork. They worked hard, supported each other and kept on through all kinds of weather learning new skills whilst constructing a picnic bench for the view point and new railings around the car park near the visitor centre, with an unusually shaped piece of wood created into an arch leading into the willow shelter area. They also had the opportunity to manage a neglected coupe of coppice within Long Wood during the course, bringing this area back into rotation. The group were offered the option of working towards accreditation in 'Construct Ancillary Structures to Access Routes' Agored Cymru level 2, with 5 individuals achieving accreditation.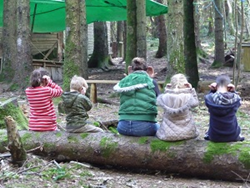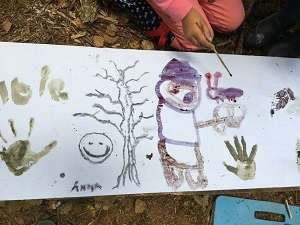 In the spring months the woods were a hive of activity with children's voices ringing out. 6 different family centres took part in forest school and bespoke activity sessions and a great time was had by all. Children of all ages, from babes in arms to 4 year olds had fun building dens, playing with mud, collecting natural materials, making leaf crowns, listening to stories about an owl family, playing and listening to music and resting in the hammock. The woodland environment is a great place for little ones to find their balance on the uneven forest floor and to discover things for themselves while mums, dads and the family centre leaders watched over them and encouraged them.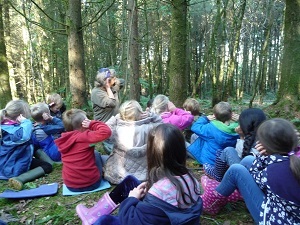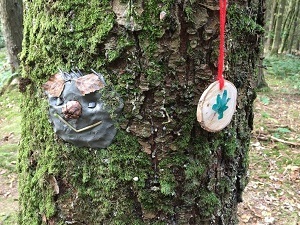 Ecological consultant, Scott Roe from Vital Ecology, has spent 4 days a year for the 3 years of the VINE project, carrying out ecological surveys within Long Wood. This year, Scott was joined by volunteers, some from the Long Wood volunteer group, to help carry out surveys and identification of species. There was also an interesting on-site discussion about the suitability of an area in the woodland for the proposed community orchard. Scott produced the final report for the 3 year project and this was presented to Carolyn Swain of Long Wood Community Woodland at the autumn celebration event.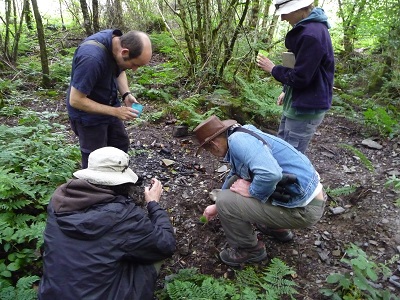 The second training course started on 30th June and finished 23rd September, taking place in Coed Tyllwyd Llanfarian where it was feasible to construct a workshop. 9 learners enrolled on the course with three of them achieving accreditation in the level 2 Agored Cymru unit- 'Construction of a Basic Wooden Shelter'. The group learnt how to use the appropriate traditional tools and techniques and applied this to making the various joints for the large timbers being used to construct the framework of the shelter. They also learnt all the relevant technical terms for this type of work. The end result was a beautiful roundwood structure for future courses. The trainees worked alongside another similar course and along with all their participants, the work site was a hive of activity, with people measuring, sawing, chiselling and hammering.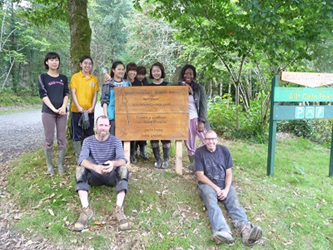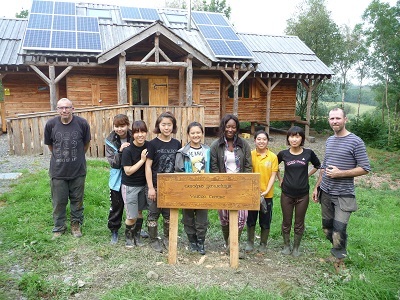 Denmark Farm were hosting a group of young Japanese women along with a Ghanian leader through UNA Exchange in Cardiff. They were invited to volunteer at Long Wood for a day to install some signage around the woodland. These beautiful carved oak signs had been created in the previous year with Mark Folds and a group of people at CAMFAN ( a drop in centre for people with learning disabilities) in Lampeter. Mark along with Jamie Miller worked with these young women to install the signs. For all these women, it was the first time of leaving Japan and of visiting Wales.
27 activity days took place in Longwood over the past year with the last ones taking place in October. People from a range of ages visited Long Wood, from babies in prams with their parents to elderly people in their late 70's. Groups included primary schools, youth groups, Brownies, Ti a Fi, Long Wood volunteer group, Pagan Society, Tribal Unity Wales and Young Carers.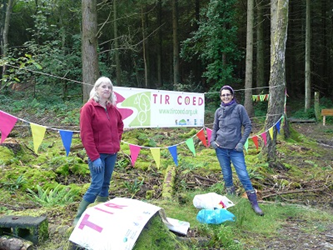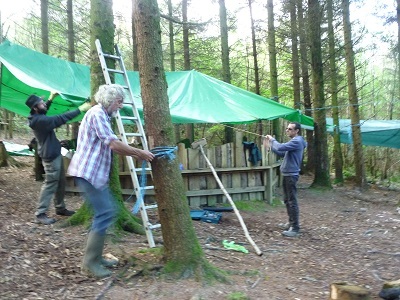 A final VINE open day and celebration Event drew the VINE project to a close at Longwood and was part of the Long Wood Forest Fair. This was an opportunity to promote Tir Coed and to celebrate all it's achievements over the 3 years of the VINE project. Some local volunteers helped to set up the activity area the day before, and many of them also attended the main event on the Saturday.
The event was a huge success with 150 people visiting the Tir Coed area. Tutors Rob Smith and Eifion Wakefield demonstrated and provided visitors with the opportunity to have-a-go at greenwood craft using traditional tools and techniques. Other tutors James Kendall and Lea Wakeman ran a variety of activities suitable for families with children visiting the stand. There was also story telling from volunteer Hayley Addis and music from James and Iain with cups of tea and home-baked apple cake which were enjoyed by everyone around the fire. A fitting end to an amazing project!