End of VINE Celebration: Tir Coed and Both Coed Open Day
Written by Tir Coed / Saturday 22 October 2016
We had such a great day on Saturday 22nd October, 13:00 to 16:00. The Three year VINE Project at Allt Goch Woods, Llanidloes was celebrated in fine community style. Once again over 100 residents, families and local businesses joined together to create a wonderful woodland experience to celebrate the Autumn Harvest. This was the final Open Day of the Tir Coed VINE Project and we hope that Both Coed will continue to be supported to develop activities within the community woods into the future. Two Tir Coed volunteers who have progressed through mentorship and are now Tir Coed Support Tutors and Martin Cope, Tir Coed Project Officer, now sit on the Both Coed Committee.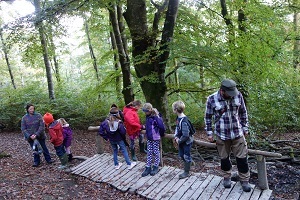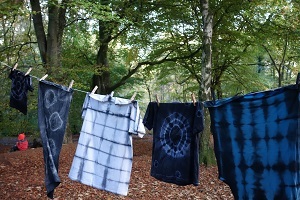 This Open Day included local businesses providing pizzas on the open fire and natural teas. Tir Coed Tutors facilitated enchanting forest music and forest school activities. Pete Williams from Red Dragon Bushcraft led an interactive fire-lighting and bushcraft session and Zoe Quick facilitated an ingenious acorn tie-dying activity. The celebration was initiated by an amazing theatrical walk from the Market Hall led by Kirsten McIver. The woods rang out with dramatical magic and mystery when the walkers entered the central glade. Chris Panic then led interactive storytelling and Hazel Maddocks took over with a wonderful harvest ritual. Speeches were presented by Tir Coed Director Ffion Farnell, Project Officer Martin Cope, Tir Coed Tutor Dave Thomas, Both Coed Chair Zoe Quick and Llanidloes County Councillor Edward Breeze. Martin presented Edward with the three-year biodiversity monitoring report conducted by Tir Coed's specialist ecologist Scott Roe. The report details the ecological improvements as a direct result of Tir Coed's training courses and activities over the last three years. The report was contextualised on the day by a very informative walk around the woods by Dave Thomas and Scott Roe. Russell George AM was also in attendance.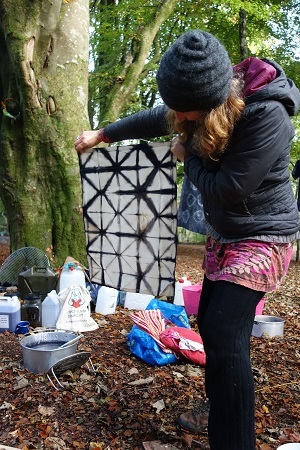 Thank you to all those who came along to take part, together with Montgomeryshire AM Russell George, Llanidloes Town Mayor Phyl Davies, Cllr Edward Breeze and reporter Robert Parker-Munn.
Tir Coed Llanidloes Statistics over the last three years:
· Over 10,000 volunteer hours
· 1700+ volunteer days
· 1200+ volunteers engaged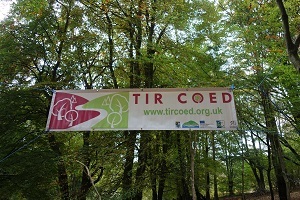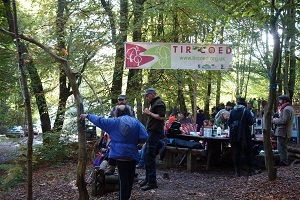 Improvement Works Completed over the Last Three Years:
Robust Compost Toilet
Large Octagonal Table and Benches
Flattening of Work Area
Complex Living Willow Structure
60 Traditional Steps, Benches and Path Levelling
Bird Boxes Built and Distributed Throughout The Wood
Reclamation of Historical Heath Area
Area of Sweet Chestnut Returned to Traditional Coppice
Traditional Bridge over Boggy Area
Natural Wildlife Pond
Thinning of Coniferous Trees from Between The Broadleaves
Removal of Beach Saplings To Encourage Natural Regeneration
Numerous Wildlife Brash Piles Created
Invasive Species Clearance
In Depth Biodiversity Monitoring over the Three Years
Paths and Rides Widened
Hung up Trees Made Safe
Removal of Hung Up Branches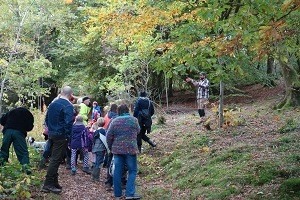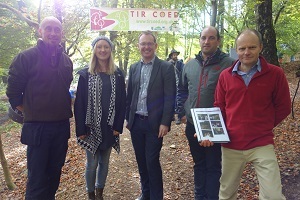 Referral Organisations Involved in VINE: Referal Organisations VINE 2013-2016
Small Steps
Siawns Teg
Culture Co-op
Kaleidoscope Newtown
Powys Carers
Powys Young Carers
Ponthafren
Llanidloes Outreach Group
Welshpool Outreach Group
Montgomeryshire Family Crisis Centre
PAVO
Probation
Llanidloes Cubs
Llanidloes Scouts
Llanidloes Town Council
Llanidloes Primary School
Severn Rivers Trust
Carad
Dwr Cymru
Rhayader 2000
Llanidloes Twinning Committee
Llanidloes and beyond Home Ed Group
Both Coed
Llandysillio Primary School
Friends of Llanidloes Woods
Llanidloes Youth Club
Jobcentre Newtown
The Wallich Newtown
Dyfed-Powys Police Newtown
Powys Youth Intervention Service
Ceredigion YJS
Cultivate Newtown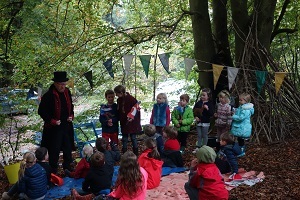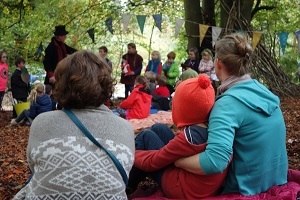 Joint Lead Tutors – Colin Titley & Dave Thomas
Number of participants: 126
Number of volunteer hours: 560.5