Leaving Tir Coed
Written by Tir Coed / Monday 28 November 2016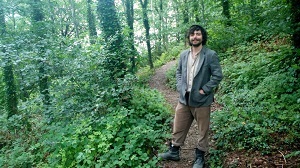 Jo Gardom joined Tir Coed in June 2015 as Llanfarian Project Officer, coming in half way through the second year of the VINE project it was lucky that Jo was already well-aware of the work being undertaken at Coed Tyllwyd Llanfarian having completed a sustainable woodland management course there just prior to securing the job. Jo quickly took to the role implementing the second training course of the year, a carpentry and construction course and coordinating many activity days for a range of groups. Over the past year and a half as Jo's confidence in the role has grown he has become an incredibly valued member of the team, always going the 'extra mile' to ensure everything is running smoothly and taking on a considerable amount of extra work to his 'day job'. Jo has also been able to access his chainsaw training through Tir Coed which he passed with flying colours as well as getting his Outdoor First Aid and Health and Safety in Forestry certificates. Over the past couple of months Jo has done a wonderful job of auditing and maintaining all of the Tir Coed tools and constructing a central and effective tool store at the Aberystwyth office which will really help Tir Coed going forward into its next major project as well as updating all of the Tir Coed Health and Safety procedures. We are all really sad to see Jo leave and wish him the best of luck with his move to Cambridge and in finding more environmental and woodland work in this new location. Cambridge employers- you'd be lucky to have him!
It is with sadness that I will be leaving Tir Coed in the role of Project Officer at the end of the VINE project, to do work in a self-employed capacity in woodland management and tree surgery. It has been an immense privilege to be involved with such a positive project and with an amazing team. Though I will be moving to be closer to my loved ones I will be watching the progress of the LEAF project with great interest and sincerely hope to be involved with the great work of the charity in the future.
VINE has been an incredibly uplifting project to be a part of. From school children building their first fires, to adults developing practical woodland management skills, Coed Tyllwyd has provided an astonishing number of people with a space to learn, develop skills and form friendships that extend well beyond the duration of this project. It has been a pleasure to work with an exceptionally talented and warm hearted group of practitioners and staff, and the commitment of everyone to the future of our woodlands and the community has been a constant source of inspiration. Coordinating the work at Coed Tyllwyd has also allowed me to develop my own skills a great deal, so a massive "thank you" to everyone who I have learnt from over the project and, not least, to the woodland itself.