Lord Mayor of Birmingham sees Tir Coed in action
Written by Tir Coed / Monday 08 May 2017
On Friday 5th May, Tir Coed were proud to be part of a group demonstrating the excellent work going on as part of the Elan Links: People, Nature & Water project to the Lord Mayor of Birmingham. The Lord Mayor was visiting the valley as part of a decades long relationship between Birmingham and their source of clean, Welsh Water at the Elan Valley.
A team from the current Tir Coed training course demonstrated how to make bird boxes, bird feeders, and pole lathing to visitors to the visitor centre throughout the day. The Lord Mayor and the Rhyader Town Mayor came by the stand in the morning to see the work. While they were there we took the opportunity to get them to sign the Tree Charter while they were at the stall.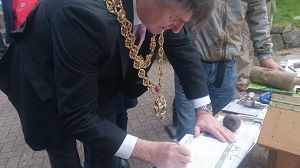 Lord Mayor signing the Tree Charter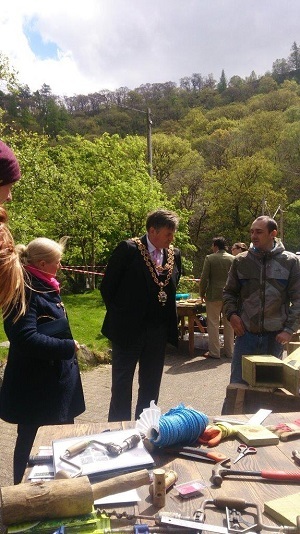 Lord Mayor talking to Tir Coed volunteers
Leila, Tir Coed Director, also came on the groups' tour of the valley. She took the chance to show the great work which has been done installing new steps and gates and clearing views of the World War 2 Pill Boxes.