Traditional Crafts - Intensive Week
Written by Tir Coed / Monday 29 January 2018
A great week was had by all being crafty in Bob's woodland workshop. Participants gained new skills and crafted some beautiful artefacts.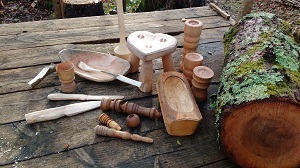 They all thoroughly enjoyed themselves, here's a quote from an 18 year old participant:
'I had a sic week, I have never learned in this sort of way before, Bob, Anna and Eifion the tutors are complete legends'.
Prior to the intensive week, participants visited the Ceredigion Museum to do some research into the type of crafts they would like to create during the week.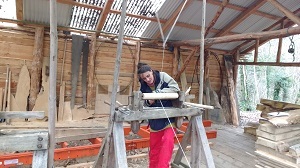 Congratulations to everyone who completed the week. We look forward to seeing your artefacts on sale in the future.
Thank you very much to Bob Shaw for letting Tir Coed use the beautiful workshop and for his continued support throughout the week.
Tutors: Anna Thomas, Eifion Wakefield
Number of participants: 7
Volunteer hours: 210