Value Independence Certificate Presentation
Written by Tir Coed / Thursday 22 December 2016
Tir Coed was approached some time ago by Value Independence, a Community Interest Company that provides support and help to people to gain new skills, improve confidence and become more independent, whether it be within their own home or within the community. They had been seeking a partner to help deliver and support the accreditation of work within the centre. Over the past 12 months the relationship has grown and has enabled accreditation to be offered for the first time.
As an approved Agored Cymru Centre, Tir Coed has been able to offer support and administration services to enable a group of learners to get recognition for their participation and work on a unit titled Drama- Introduction to Storylines.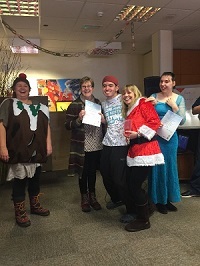 Seven learners completed the course and thoroughly enjoyed the sessions provided by workers at the centre. The group devised a witty and funny sketch based on a 'Jeremy Kyle' style talk show. They each took on a different character and performed brilliantly to an audience.
The learners have gained improved confidence, a sense of achievement and official recognition for their hard work.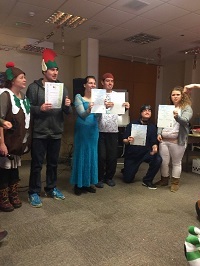 Tir Coed's Accreditation Manager was lucky enough to visit the new Value Independence centre during their end of year Christmas Party. A special awards ceremony saw four participants awarded with their Agored Cymru certificates and one extra special Tir Coed / Value Independence Certificate of Achievement.
It was so rewarding to see the smiles and sense of pride that these achievements brought to each individual. Congratulations to everyone on a job well done.
This has been an interesting, fruitful and valuable partnership and we hope that more connections will develop between the organisations in future. The plan is for Value Independence to secure specific funding to support further courses for their clients with Tir Coed adding value by offering beneficial accreditation services. We very much look forward to more partnership working opportunities.