Women in the Woods - Polly Williams
Written by Tir Coed / Friday 08 March 2019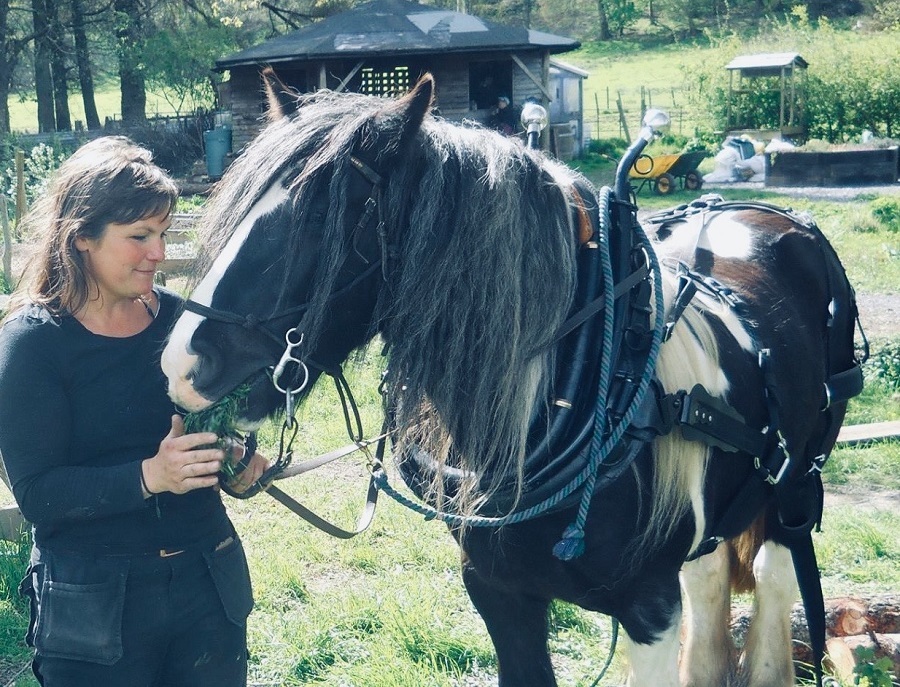 In 2014 I was made redundant from my job as a homeless/housing adviser for a local charity, I had two young children and was more than ready for a career change, I also knew I did not want to work indoors anymore.
I took a leap into the unknown and went self-employed, I set up as a gardener and at the same time I applied for a job as an activity tutor for Tir Coed and was successful starting as a freelance tutor, providing woodland craft and carpentry sessions to adults and children. I also attended several of the training sessions and courses that Tir Coed had on offer, I learnt much about how to manage our native woodlands in a sustainable way, land management, landscaping and also got skilled up with traditional hand tools, which then gave me the chance to add landscaping to my list of garden services I could offer.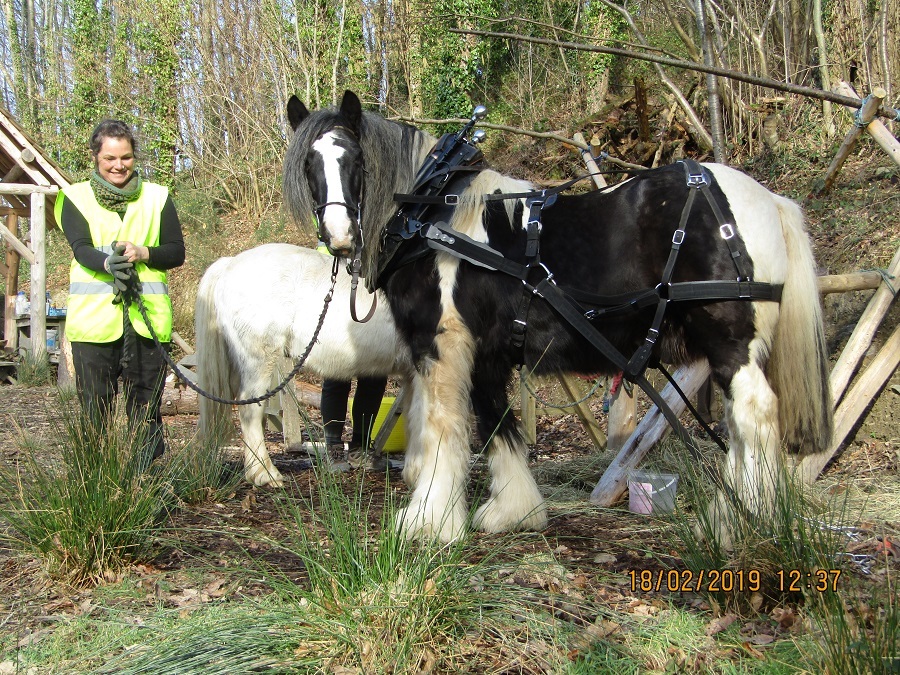 I have worked around and loved being with horses from a very young age, it seemed to make perfect sense to combine woodland and horse and set up as a horse logger! I bought Archi my logging pony as a 2-year-old in 2015, I paid £400 for him, he was untrained. I felt it was important to train my own pony for the job, even though I didn't have a clue what I was doing when it came to logging, I had trained horses to ride in the past. Archi is an amazing pony, he is gypsy cob and stands at only 14hh, he is strong, foot sure and easy to move about in small spaces. Training Archi myself has paid off, he trusts me very much and our bond is strong and because of this he is eager please me, with the odd nudge from a Polo!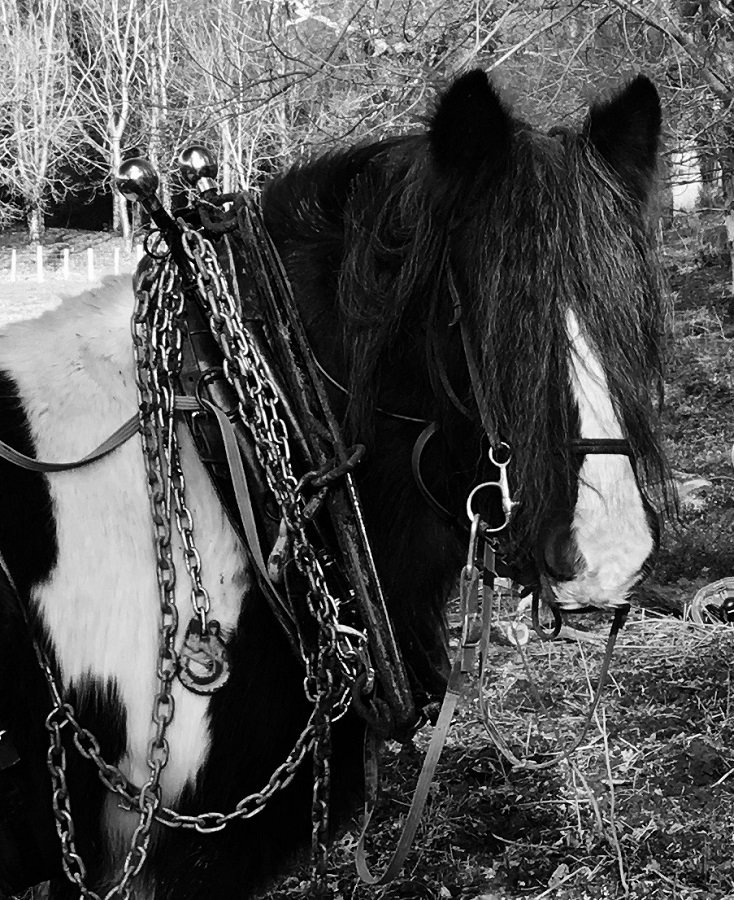 I attended a horse logging course at C.A.T with local Horse Logger Barbara Haddrill and George Newtown, I also gained some advice and experience from another local horse logger Nick Burton, I continue to be inspired and supported by them. I had no idea how long and how much stuff I would need to buy, find and learn! It has been several years of scrimping and saving to buy various bits of harness, training, chainsaws and other essential forestry equipment and we are there, only a horse trailer to buy now, so I no longer have to borrow one from friends!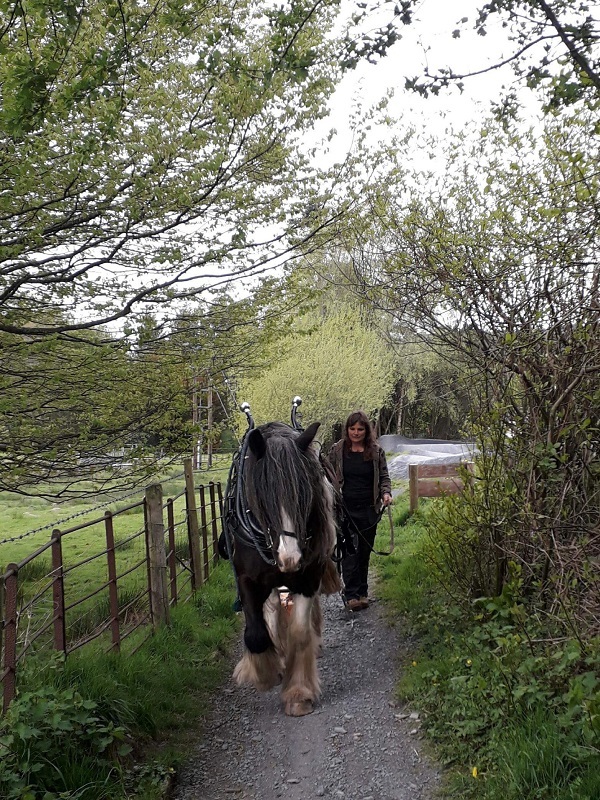 Horse logging in woods allows for low impact timber extraction, the environmental impact is minimal with no fuel or noise pollution. The ponies can get to places that vehicles cannot and they leave very little evidence of their being there, just a few hoof prints providing a holes for saplings to put down roots - and sometimes some added fertiliser. I hope that Achi and I will be able to help small local woodland owners and organisations such as Tir Coed, improve and manage their woodlands in a sustainable way. Contributing to the value to their timber, land and to maintain the important woodland environments that provide valuable habitats for so many of our native trees, animals and plants species.
I continue to have many outdoor hats and love working as a gardener, a tutor for Tir Coed and horse logging. I hope that I am am lucky enough to have the rest of my working life outdoors, where I feel most inspired, strong and relaxed!
If you would like to make contact, please do so
Westwaleshorselogging@gmail.com