2 day Basic Construction Skills Training Course
Written by Tir Coed / Monday 30 July 2018
Tir Coed ran a 2 day Basic Construction Skills Training Course in a small woodland near Llechryd, on 24th and 25th July. Maidie B Goddard is a Wildlfe Trust nature reserve with a mosaic of woodland and grassland with wide, wooded gullies. In the mature Ash woodland is a wooden shelter which was originally constructed by Tir Coed back in 2007. The shelter was beginning to rot and fall apart and become unsafe.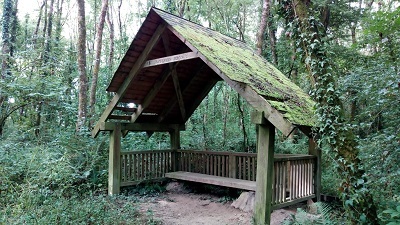 A group of 4 trainees under the instruction of 2 of our tutors were tasked to re-roof the shelter and make it safe as part of a course with a focus on health and safety in preparation for taking a CSCS card test (Construction Skills Certification Scheme).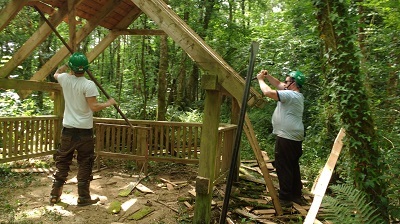 The trainees cleared and prepared the area, stripped off the old roofing boards and stabilised the structure. They levelled the area and repositioned and secured the shelter, then cut materials to size ready for fixing. They fixed the new boards to the A frame and finished the edges so that the shelter was weatherproof and fit for purpose.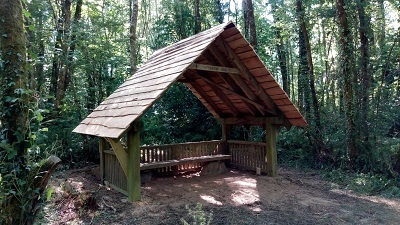 The finished shelter looks great, the Wildlife Trust were really pleased with the finished result. Congratulations to the 4 participants who were successful in passing their CSCS card test.