5-Day chainsaw course
Written by Tir Coed / Wednesday 28 November 2018
Four trainees have recently completed the NPTC City and Guilds certificate of competence in Chainsaw maintenance, crosscutting and felling of small trees up to 380mm.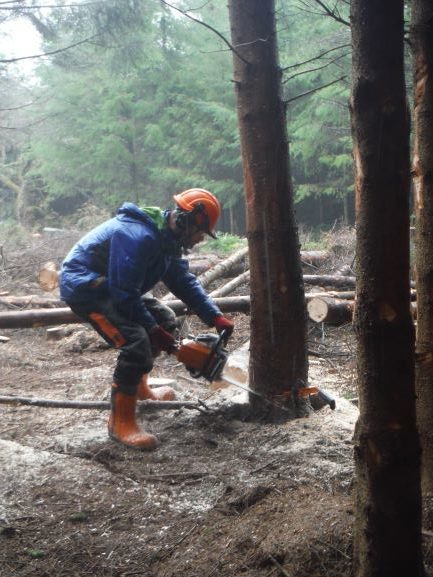 The course was part funded under the new Forestry Focused Future grant scheme aimed at developing the Welsh Forestry sector, covering 75% of the cost this makes undertaking what is very expensive training a lot more accessible. Training was provided by Andy Bakewell training at both Coed Tyllwyd, Llanfarian and another site in Llangybi, Nr Lampeter where the felling and crosscutting elements of the course were carried out, working in coupes of Norway spruce and larch.
Andy's wealth of experience and clear instruction enabled the group to progress rapidly through the itinerary and to be fully prepared for their assessments the following week, which all four passed with flying colours!
It has been so rewarding to see our trainees complete the training knowing that it will really open doors for them into the forestry sector and long term employment. Seeing them walk a few inches taller makes it all worthwhile and demonstrates what is possible to achieve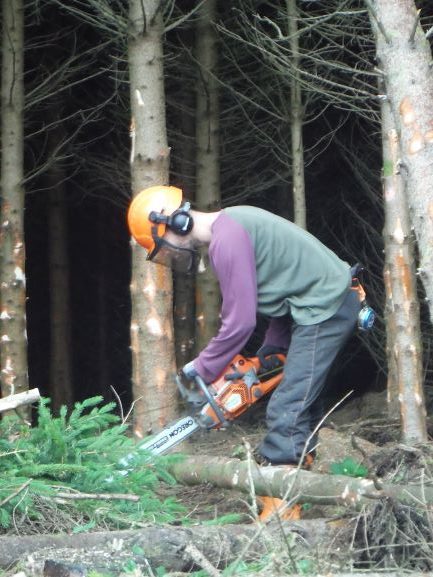 This is the first of many training courses planned to run over the next two years through the Forestry Focused Future funding programme and we look forward to enabling more of our trainees access industry recognised training and to further improve the resilience of the Welsh Forestry sector going forward. We would like to extend our sincere gratitude to Andy Bakewell Training and Focus on Forestry First for their continued support and professional input.