Autumn activities in Brechfa
Written by Tir Coed / Tuesday 02 November 2021
We have begun our autumn delivery in Carmarthenshire by branching out into Brechfa forest.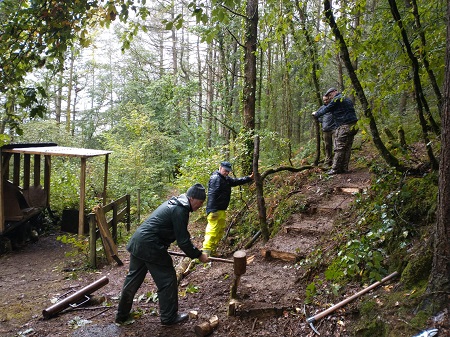 As part of the Brechfa Forest West Wind Farm Community Fund we have been granted funding to deliver a project to benefit communities that neighbour the wind farm and will continue this work over the next few years.
Firstly, over three volunteering and activity sessions we have engaged with some wonderful local people at Keepers Forest, helping with site maintenance, creating steps on slippery slopes and making the place safer and more accessible for all.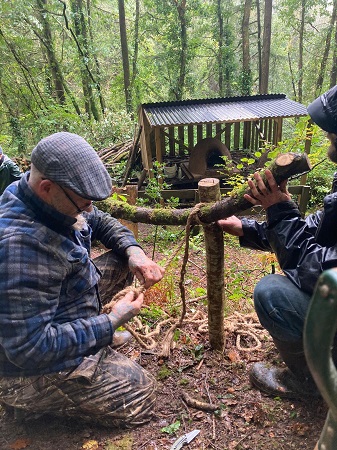 The volunteers have also been learning new woodworking skills, fixing up shave horses and work benches for us to use with other groups in the future.
Everyone brought their own set of very impressive skills and experience which made the sessions even more enjoyable and rewarding to deliver.
We also reached out to local Home Ed families, with a small group of children aged 10-12 attending our Bespoke Activity Session, which turned out to be a fun filled day of play, discovery and learning.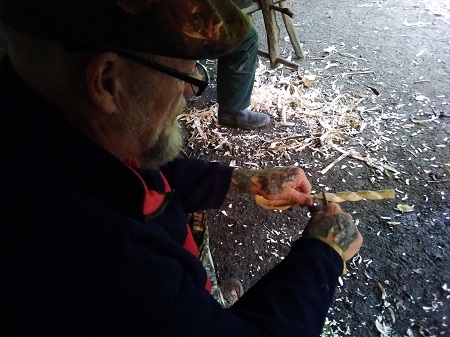 From making the perfect pointy stick to cook marshmallows over the campfire to enjoying the autumn colours and crunchy leaves that litter the forest at this time of year, a great time was had by all.
A big thank you from Tir Coed to all those who got in touch and attended our sessions.
Brechfa…we'll be back in 2022!