Cefnllys School Adventures in the Elan Valley
Written by Tir Coed / Friday 20 July 2018
This week 12 children and 4 staff from Cefnllys School came to Elan for a day of forest adventure with tutors Matt and Phil.
The group had a walk through a beautiful oak woodland, stopping along the way to look at plants, bugs and other wildlife. They also took time to listen to the sounds of nature and hug some trees – and why not!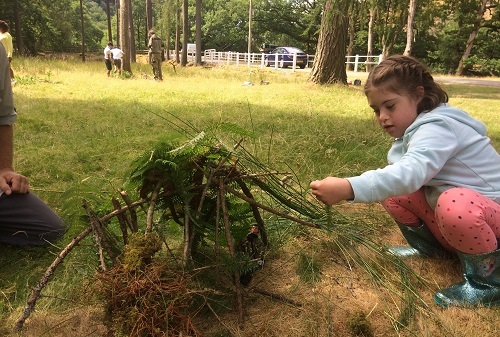 The children then had a go at shelter building on a very small scale, making sure that Action Man would be warm, dry and comfortable for the night!
Phil the Bug Man lived up to his name and showed the group his collections of native insects and their larger relatives from around the world. Everyone had a go at using sweep nets and seeing what they could catch.
The afternoon was taken up with trapping and most importantly; making s'mores on the fire (toasted marshmallows sandwiched between two chocolate biscuits ).