Celebrations in Ceredigion!
Written by Tir Coed / Wednesday 14 August 2019
With the help of Support Tutor Cath Rigler ten of the trainees have gained a level 2 accreditation, they have created some beautiful outdoor picnic benches and bespoke post and rail fencing that can be used and enjoyed by visitors into the future.
They have improved access to the site by designing and constructing a wheelchair accessible picnic table, fencing off the wood processing area and leaving the site clear and tidy.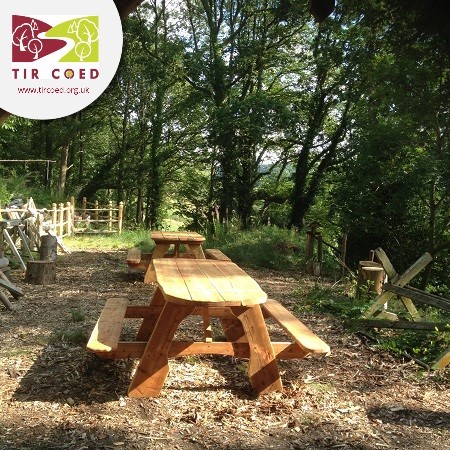 They have all gained useful skills in using traditional tools and methods and made some lasting friendships.

'This course has helped me so much,it is the best thing I have done for myself in years. I feel like my life has improved as a result'. Quote from one of the trainees

There have been some great outcomes with several trainees signing up to further training and volunteering.
It has been fantastic to watch the trainees confidence grow each week as they become empowered and feel a sense of pride in themselves and what they have achieved both personally and as a collective- congratulations woodland carpenters, you've done yourselves proud!