Elan Links Official Launch
Written by Tir Coed / Monday 26 March 2018
Fire, wooden flowers and candle making were just some of the activities last Saturday at the official launch of the Elan Links scheme. The day marked the official start of the five-year scheme, to which Tir Coed is a partner.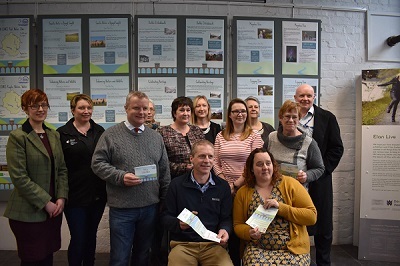 To celebrate the partnership, Tir Coed arranged hands-on greenwood working and bushcraft activities for children and families. Throughout the day, people tried fire-lighting using a bow drill, bracelet making from rushes, primitive candle making and using a draw knife and shave horse to create wooden flowers.
Activities such as these are being offered to groups locally and from Birmingham, as part of the experience and education theme of the Elan Links scheme. Over the next five years, Tir Coed will be leading three projects which will see accredited training, bespoke activities and residential retreats on offer.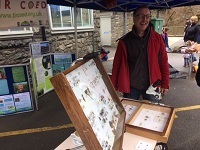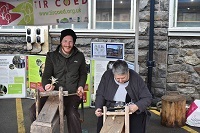 The Elan Links scheme is a £3.3million investment into the Elan Valley area. It will see 26 projects delivered across four themes: celebrating heritage, enjoying Elan, experience and education and enhancing wildlife and nature. Projects include increasing access to archaeological and built heritage sites including the half built Dol y Mynach dam, World War II pillboxes and the Roman Marching Camp; improving existing walking routes and creating new routes for walking/running, cycling and horse riding; activity days and training courses which promote woodland career strands and protecting rare birds and species found in the vast uplands of Elan Valley.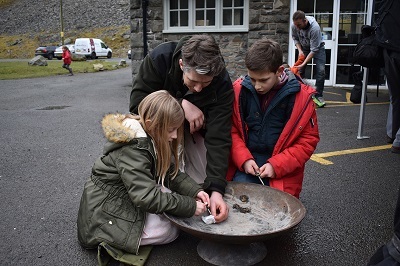 Elan Links, funded by the National Lottery through the Heritage Lottery Fund (HLF), Elan Valley Trust and Dŵr Cymru, will safeguard the unique and varied heritage of the Elan Valley and enhance the area for the long-term.
The opportunities available for people to undertake life changing Tir Coed training courses as part of the Elan Links Scheme will have a big impact.