Eleri's visit to Gregynog
Written by Tir Coed / Thursday 03 May 2018
Eleri here, Tir Coed's resident PhD student, frequent asker of questions, and occasional answerer of them! This week I went to the 'ESRC Welsh Human Geography Postgraduate Conference and Theory School' (phew!) at Gregynog, a stately home just outside Newtown and the former home of the famous Davies sisters. Gwendoline and Margaret Davies were passionate patrons of art and culture who, among many other philanthropic activities, donated a huge collection of 260 artworks to the National Museum of Wales in Cardiff, and supported a number of musicians and artists in Aberystwyth and mid Wales who had fled Belgium as refugees during the First World War.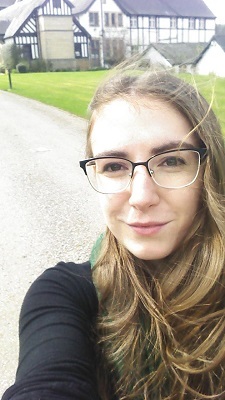 A few years later in 1920, they bought Gregynog Hall to create a home for the arts in Wales and that is where I spent Monday morning, talking to other academics about Tir Coed in the beautiful (though acoustically challenging!) music room. PhD candidates from Aberystwyth, Cardiff and Swansea universities presented talks about their research, covering topics as varied as beekeeping, the Windrush generation, charity marathons, surfing communities, the Palestinian museum, and New Age migrants, answering questions from an audience of students and lecturers.
I was the first speaker on Monday morning and, despite shaking like a leaf, presented my research proposal, 'An analysis of Welsh woodlands as sites of therapeutic encounter and social engagement', exploring Tir Coed's model for enhancing health and well-being via woodland-based training. My 15-minute slot whizzed by far too quickly as I presented my research questions, background information, my methods for gathering Tir Coed volunteers' thoughts and opinions, my plan of action for the next two-and-a-half years and answering the all-important question of 'why bother studying that?'. The audience were brilliant, giving me much to think about as I continue building up my research and, kindly, clapped at the end.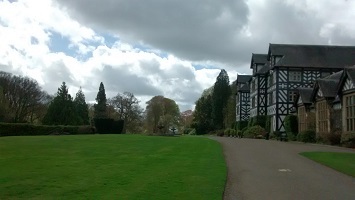 Relentless drizzle kept us indoors, but on the last day I was able to admire the beautiful grounds surrounding Gregynog, containing some remarkably tall oaks, redwoods and monkey puzzle trees, rare lichens, and unusual beetles, which have been granted protection as a Site for Special Scientific Interest (SSSI). If you get the chance to visit, try finding the Gregynog Oak, a pollard oak (and minor local celebrity) which was shortlisted for the Tree Of The Year 2016 competition for its incredible 6-metre diameter and gnarled charm.
All in all, a fantastic conference, a beautiful building, and exciting research plans for the future – watch this space!
For more information or to learn more about my research project, contact us.