Emergency First Aid Training
Written by Tir Coed / Tuesday 01 June 2021
On a windy Thursday, six of Tir Coed's volunteers and staff members visited Coed Tyllwyd to complete our 'Emergency First Aid at Work +F' training course with instructor Marcus Davies of Realism Training.
The day started off well with a discussion of the logistical challenges of responding to emergencies in remote woodland environments where steep terrain, poor mobile phone signal and long distances from the nearest hospital mean that First Aiders play a vital role in stabilising injuries and preventing further harm while waiting for professional help to arrive. However, as wind speeds reached nearly 40 mph and increased the risk of injury from falling branches, the group decided to beat a hasty retreat to Tir Coed's nearby Aberystwyth offices to prevent us having to put our fledgling First Aid skills into practice sooner than we'd expected.
Once we were back at the office, masked up and well-ventilated, Marcus led us through how to check for injuries and internal bleeding, check airways and place an unconscious person into the recovery position. After a short break, Malcolm bravely volunteered to play the role of an injured and unconscious forestry worker in a realistic mock-up scenario, complete with chainsaw and wounds made with plasticine, fake blood, and PVC pipe 'bones'. Under Marcus's instruction, we worked together to prioritise the treatment of Malcolm's 'injuries' and learned how to turn a person with a suspected spinal injury onto their side in order to keep their airways clear of any blockages while preventing further damage to the spine.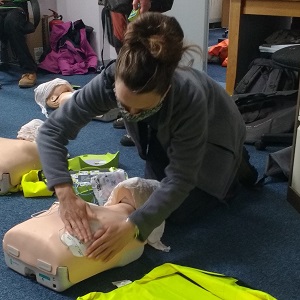 After lunch, Marcus explained that, like so many other things changed by the Covid-19 crisis, there are differences between the "normal world" and "Covid world" techniques for delivering CPR in order to preserve life where a person's heart and lungs need help to pump blood and oxygen around their body. Omitting the rescue breaths and covering their faces lightly with a cloth, we practised CPR on specialist mannequins that contained sensors measuring the rhythm, position and depth of our chest compressions. Using a smartphone app, Marcus monitored our CPR technique and was able to give us real-time feedback to improve our pacing and strength. After four long minutes on non-stop CPR, we were chuffed to find out that all six of us had scored above 90% accuracy in the test, with half of the group getting an astounding 99% of their chest compressions on target! Though there were smiling faces all round, even the short exercise gave us an insight into how tiring and difficult it must be to administer CPR while waiting for help.
For the rest of the afternoon, we worked on dressing some of the theatrically gory (and thankfully fake) wounds that can result from accidents with tools and trees, as well as a Forestry-specific component of the course which covered crush injuries and catastrophic bleeding - or 'leaking' as Marcus cheerfully called it. We also learnt about how defibrillators, though surprisingly easy to use, can save vital time for people in cardiac arrest and therefore the importance of knowing where to find the 'defibs' in your local area. Afterwards, all that was left was to hand out our certificates and head home – hoping that we wouldn't have reason to use our new skills on the way!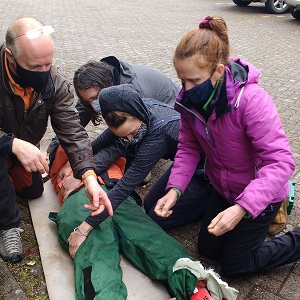 Thanks again to Marcus from the Tir Coed team and volunteers for delivering a memorable day of First Aid with a great sense of humour and brilliant adaptability despite the challenges of the weather and an unexpected road-trip to the Tir Coed offices halfway through the day. Diolch yn fawr!