Powys Memory Bench Project
Written by Tir Coed / Wednesday 02 June 2021
Don't you just love how fate makes a plan come together?
It was a visit to a National Trust Site where I first saw memory benches and thought they were a wonderful idea. The project enables carers and the people they care for to carve their memories of the Elan Valley and the great outdoors into benches which are then sealed to create an everlasting tribute.
I was especially keen to run this project after my dad was diagnosed with dementia, and I hope that through partaking in this activity it will give people an opportunity to build positive memories to reflect on.
After I explained the concept, Anna the county co-ordinator, was happy for me to pursue funding applications to finance the project.
And then Covid struck and the lockdown made the whole idea seem like a pipe dream.
Roll forward to December 2020 and the exciting news that my funding bid had been successful and the project was to go ahead. In a perfect twist of fate, we also received news that mature ash trees on the Elan Estate were to be felled. A trip to the Elan Trust resulted in them kindly donating the wood we needed for the project.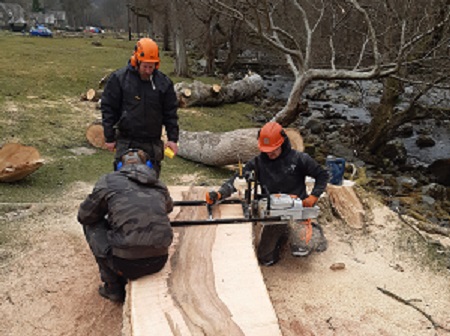 April 1 was milling day and local start-up company 'Made By Hand' joined us at the Elan to mill the trees we'd selected.
After a slow start setting up their bespoke Alaskan Mill, we were finally full steam ahead and 18 slabs were milled from three sections of ash. Each green slab weighed between 70-90kg and we were incredibly grateful to Anna, Phil, Darrel and some of the village residents for their help in moving them.
I am delighted to say that we will be running our carving days at the end of July and beginning of August, so please contact me at powys@tircoed.org.uk if you know of anyone who would benefit from taking part in this project.