Spreading the Tir Coed message
Written by Tir Coed / Wednesday 24 March 2021
I'm Steve, Tir Coed's marketing and communications manager. It's my job to celebrate and share the fantastic work of the charity and to encourage more and more people to explore and enjoy the wonders of the beautiful woodlands of Wales. I'm usually found at my desk from Monday to Wednesday.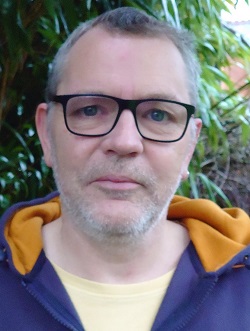 Tell us a little something about yourself….
After more than 20 years as a journalist and newspaper editor in West Wales, I decided it was time to focus on spreading some good news for a change. I have always had a great love of the outdoors and the natural environment, with woodlands my destination of choice. I enjoy nothing better than wandering the country lanes and tracks around north Carmarthenshire with my partner Ruth and our German Shepherd, Vince.
What are your hobbies?
I'm a passionate armchair football and Wales rugby supporter – often much, much too passionate, I'm told – and for no obvious reason have been a dedicated Leeds United fan for more than four decades. I have a deep interest in local and Welsh history, and also make occasional ventures into the writing of crime fiction. I can often be found in my workshop where I'm perfecting the role of a frustrated, talentless weekend blacksmith.
What excites you most about your new role?
The work of Tir Coed and the philosophy that drives the charity are fundamental to bringing about a greener, brighter, better future for Wales. I'm incredibly excited to help spread Tir Coed's message and encouraging more people to play an active role in transforming our landscapes and economy for the benefit of current and future generations.
What do you enjoy most about being outdoors?
There are few problems in life that cannot be solved – or at the very least banished for a time – by a walk in the beautiful Welsh countryside. Witnessing the constantly changing nature of our landscapes throughout the seasons and seeing and hearing the birds and wildlife that come and go during the year offers a real insight into our roles as custodians of this wonderful country.
What's your favourite season of the year and why?
I have always loved the summer when nature is reaching the peak of its annual cycle. There is nothing better than a walk along a little-used country footpath through fields and along riverbanks when the birds are in full song and the land is bristling with life.
If you were a tree, what tree would you be and why?
I have been in awe of the mighty Welsh oak since I first discovered that Nelson's navy was made primarily from our native tree – the admiral would accept no other wood for his ships. The fact that the average Welsh oak is also home to thousands of other species at any one time makes them all the more impressive. They also look majestic.