Springing into action in Carmarthenshire
Written by Tir Coed / Monday 07 June 2021
The first four weeks of our 12-week woodland carpentry course have flown by in Carmarthenshire.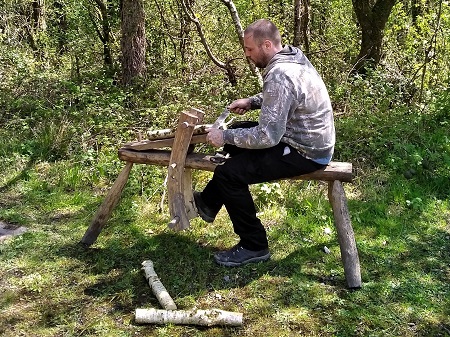 At the start of May we welcomed three new trainees, Bob, Chris, and Oscar to the course and welcomed back two others, Adam and Steve, who had joined us a few weeks earlier on our Welcome to the Woods introductory course.
We kicked off with a walk around Mynydd Mawr Country Park to get to know the site and each other a little better.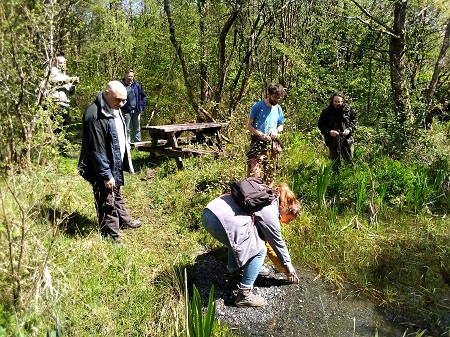 Having previously only run courses here in the winter months, we were especially excited to witness spring in action and it certainly didn't disappoint! From nesting blue tits in the woods to tadpoles in the ponds there's been plenty of new life to discover and enjoy.
Over the last few weeks we've all been getting to know each other better, sharing stories, skills and experiences along the way.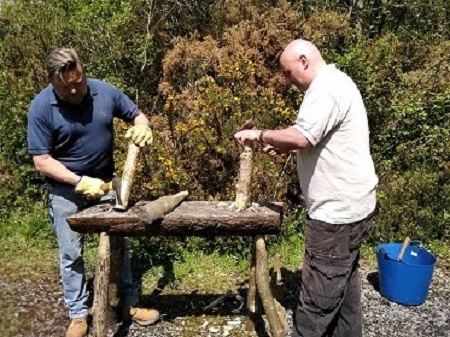 With each passing day the group has been fine tuning their carpentry skills, using new tools and techniques to create some ambitious pieces of woodwork; including two new shave horses and some more delicate pieces like spoons, walking sticks, and even a welly rack! But with the fantastic weather we've been having lately, let's hope we won't be needing that anytime soon…