Steps to Success!
Written by Tir Coed / Monday 19 March 2018
As part of the LEAF Project, Tir Coed are offering 5-day intensive training courses. The aim of these is to widen the skill set of our participants. This includes personal development as well as works skills.
We have just completed our first 5-day course in Pembrokeshire where participants were tasked with building a set of steps on a site near Maenclochog.
Led by two expert tutors, our participants started with some oak logs from a tree that fell during a storm in the winter. They split the wood to make the edge of the steps and the supporting pegs and dug into the slope to prepare the site where the steps would be before implementing them.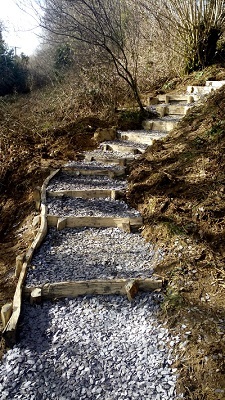 During the course, the participants learned an invaluable skill for countryside management or landscaping, gained experience with a range of new tools and considered safe working practises. As well as these practical skills, they worked really hard as a team, gained confidence and had some fun (even when it was hailing!)

At the end of the course, around the campfire, we discussed what we would all take away from the course. One participant said he had learned about tools he hadn't used before. Another said how he had enjoyed being outdoors for the week. All the participants commented on how the tutors had created a supportive and fun atmosphere. Because Tir Coed are an accreditation centre each participant received a certificate that they can use, for example, in job interviews to show what they have learned on the course.
If you would like to find out about our upcoming courses follow us on Facebook or keep an eye on the calendar.