Summer course offers gateway to success
Written by Tir Coed / Tuesday 14 September 2021
It was, of course, pouring with rain for the climax of Tir Coed's 12-week summer course, but that didn't stop us having a wonderful BBQ and certificate presentation in recognition of everyone's hard work.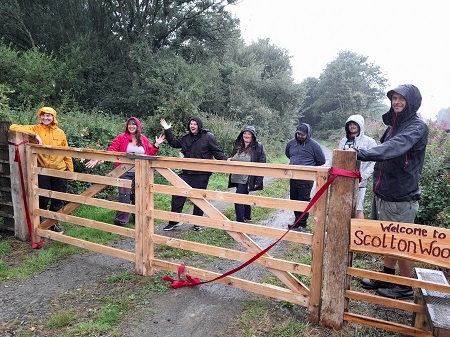 Our trainees thoroughly loved the course, learning traditional craft techniques in order to make our fantastic new gate as well as gaining a host of practical outdoor skills such as fire-lighting, knots and some woodland ecology.
The trainees will leave with a L2 qualification, a lot of useful skills and knowledge, and hopefully some new friends.
We are so proud of how hard everyone has worked, and - as this beautiful gate demonstrates - they have definitely developed some wonderful crafting skills.
The new gate was officially opened by the owners of the woodland, who kindly let us use the woods for our courses.
We will be running a winter course for those of you brave enough to work in the woods through the colder months and we are already open for applications. Please contact us on the details below.
Speaking at the presentation ceremony, one of our trainees was so happy with their time spent in the woods, they said: 'I was recently lucky enough to attend the woodland carpentry course with Tir Coed in Scolton Woods, Pembrokeshire.

"I wanted to share with you how much I enjoyed the course and say that it has had a major positive impact on my life.
"It really was a privilege to spend time in the woodland and the Tir Coed staff have done an amazing job in creating a secure and supportive environment especially in the strange times coming out of lockdown."