Welcome to another Woodland in Pembrokeshire
Written by Tir Coed / Wednesday 26 September 2018
Another successful introductory course has just finished in Pembrokeshire. In the idyllic setting of the Woodland Farm in the Rhos, amongst the colourful flowers and the nosey guinea fowl, our group enjoyed a gentle introduction to woodland working under the watchful eyes of our two expert tutors Wil and Eugene.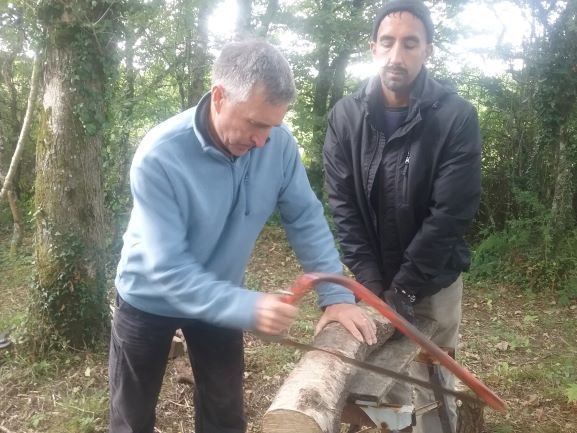 Both new to Tir Coed, Wil and Eugene formed a great team and created a supportive but relaxed atmosphere in the round of oak trees in the middle of the meadow where the course took place. Wil, with a background in green woodworking and woodland management led the course, teaching participants how to use a range of traditional hand tools safely. Supported by Eugene with his expertise in arboriculture, the dynamic duo offered the perfect intro for our participants.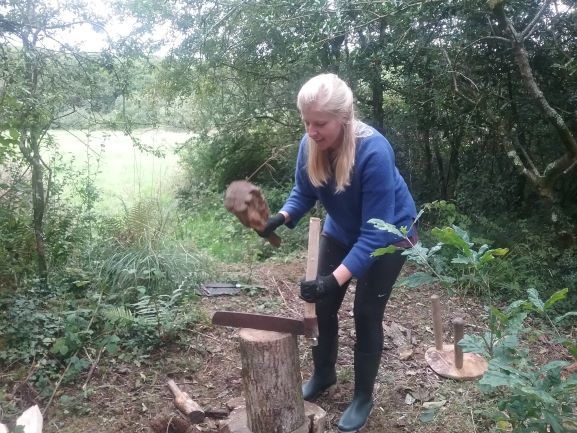 During the course, participants worked together to set up camp with a large tarp and a near constant fire to keep the kettle ready. They built shave horses that will be used on future Tir Coed courses then had opportunity to work on an individual project; most chose three-legged stools, some opted for chef's truncheons.
"The course was inspirational and opened my eyes to possibilities for avenues to explore in the future. The tutors were both excellent."
"[The tutors] created a very nice, chilled out atmosphere and there was plenty of time to connect with everyone, which was part of the experience too I feel, chill out in the woods, back to nature."
Most of the people that came on this course will be moving onto the accredited 12-week Sustainable Woodland Management course where they will develop the experience and skills that they have learned so far.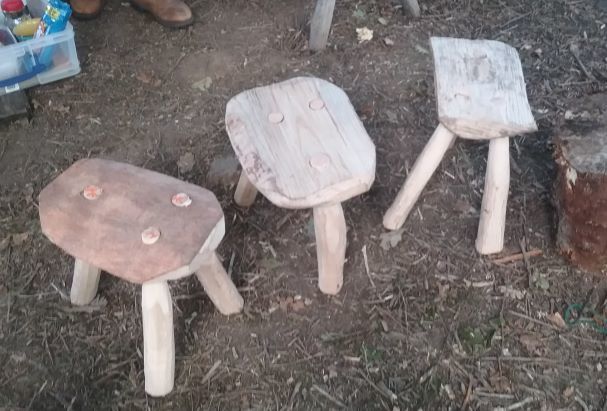 Our next Welcome to the Woods is coming up fast at the start of November. If you would like to get involved contact Nancy, the Pembrokeshire Mentor: pembsmentor@tircoed.org.uk