Wildlife Gardening Course on Tour
Written by Tir Coed / Monday 20 June 2022
Participants of Tir Coed's Wildlife Gardening course enjoyed an inspiring visit to some local community gardens recently and were delighted to host Penparacau Hub's Conversations officer and one of their much appreciated volunteers.
At Borth Community Gardens we were led through the allotments where the tapestry of plots displayed each gardener's skills and personalities. Some of the plots were more formal and organised food growing spaces while others were more like private gardens and pollinator buffets.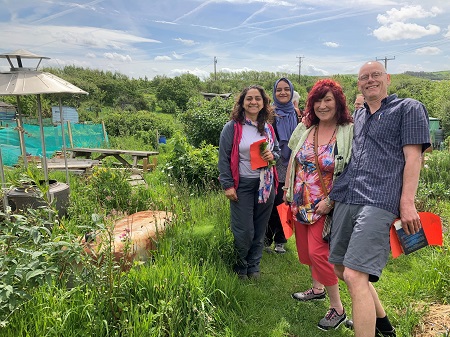 Throughout the site our participants rated wildlife friendly attributes, in line with what they have been learning on their 10-week programme. In no-mow areas we heard grasshoppers and spotted black and red froghoppers . We passed beehives and chickens in the orchard and the site was plentiful with ladybirds, a gardener's friend, with their appetite for aphids. Open short grass areas revealed dwarf wildflowers such as dovesfoot cranesbill while other areas gave opportunities for humans and wildlife to forage for self-seeded edibles including mint, fennel and blackberry leaf – ideal for a cup of tea back by the Water Shed, a communal space designed to harvest rain to supply the site. The group agreed that the site provided an abundance of habitats for wildlife and pollinators, however as there is always more that can be done, projects for the future could include swift and bat boxes and a hedgehog hotel.
After a brief picnic we set off to Penglais Community Gardens to meet Jade Phillips from Garden Organic, tucked away next to Aberystwyth Arts Centre. Jade told us this much smaller site produces more food than they can use and anyone can come along and pick what is ready. A raspberry and blackcurrant hedge produces an abundance of berries in the autumn for birds and hungry passers-by. Some beds were edged while other rambled into the grass. A polytunnel extends the season and a decking area provides a space to relax. The local conservation group look after 2 beds to encourage wildlife and we discussed ideas to deter marauding rabbits such as kites and robotic foxes! While browsing the beds we discussed the multifunction of chives – great for pollinators, easy to care for and delicious in salads and savoury food. Wrap up a flower in a sorrel leaf and you have a zingy snack.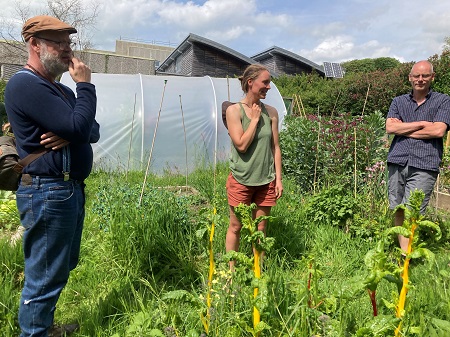 Finally, after a hot day we popped in to see Nick Howells of Laudato Si opposite the Church of the Welsh Martyrs behind Penparcau hub. Nick had a calling to grow food three years ago and with help from many hands has 2 polytunnels and an organised maze of paths and raised beds. Nick and his volunteers are now being supported by a grant from Tyfu Dyfi to extend their activities. Despite having no experience when he first embarked on the project, he has now taught himself to grow food which is then distributed by the church.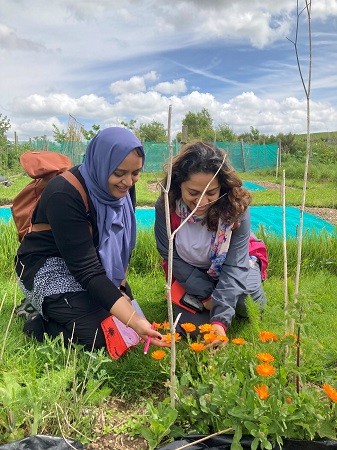 The Penparcau team are taking all this inspiration back to the hub where they hope to develop a fertile community growing site. There are many opportunities to volunteer or find outdoor growing space around North Ceredigion. Some Wildlife Gardening participants will take their skills back to Gerddi Tyllwyd in Llanfarian while one signed up for an allotment space in Borth. If you would like to hear about opportunities to get growing with other people get in touch with us at antir@tircoed.org.uk
Volunteering Sessions at Tyllwyd Gardens take place on Thursdays 10-3
Borth Community Gardens sessions take place on Thursdays 11am – 1pm
Laudato Si Gardens hold gardening sessions Wednesday & Saturdays from 1pm
To find out about volunteering at Penglais Gardens join their mailing list here: https://aberystwyth.wixsite.com/penglaisgarden