Women in the Woods - Jenny Dingle
Written by Tir Coed / Friday 08 March 2019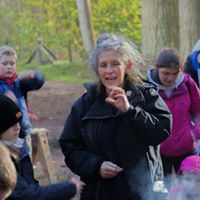 I have worked in outdoor education for more than 35 years now.
Sometimes when I'm in the woods in the pouring rain, tired from having been up since five o'clock preparing for a session, feeling a little bit old perhaps, I do wonder if I should 'settle down' and get a nine to five indoor job . . .but this is only ever a fleeting thought because the woods and the mountains are where I feel belonging and sharing my 'home' with the groups I work with brings me joy and feels like a good thing to do.
I believe passionately that everyone should have the opportunity to spend time outdoors in wild or rural places. I sometimes work with children who have never been into a wood and are afraid.
The Tir Coed groups I work with are busy in the woods, collecting, using what they find, learning what is what . . . I think this encourages a sense of being present and suits many people especially young people.
I would very much encourage other women to be part of the woodland sector. The woods are a good place to work. The skills in this work are rewarding to learn. The product is a good thing . . . locally grown planked timber, playground furniture, a well-managed coppice, a better path to a special place, a group of excited, upskilled children and much more.