Opportunities for sustainable wood housing in Wales on show at Woodknowledge Wales conference
Written by Tir Coed / Dydd Iau 29 Mehefin 2017
Director, Leila Sharland, spent a fruitful day at the Woodknowledge Wales Conference in Llandrindod Wells recently. The day was packed full of interesting presentations on how wood can be used to build a whole host of homes, schools and commercial buildings.

It was also a chance to meet local wood businesses and explain the concept of Tir Coed to a wider audience. Several of the employers there are interested in offering work experience opportunities to Tir Coed volunteers so we hope to be able to put on some events in the near future to enable this.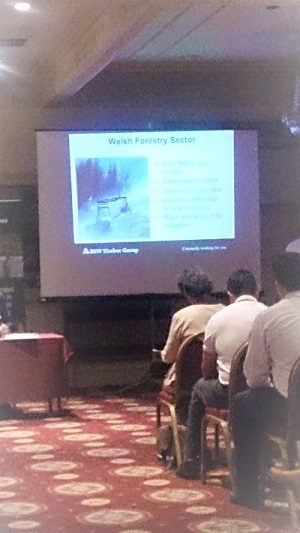 Leila also met with the team from Powys County Council who are aiming to increase the number of homes built using wood in Powys over the next few years with their Home Grown Homes project. This is an exciting initiative and one which we look forward to seeing leading to an increase in the number of apprenticeships, training courses, and employment opportunities using sustainable timber available in all of mid Wales.